Coworking spaces in Melbourne are on the rise. Not just in Melbourne though. Ever since the first true coworking space sprouted in San Fransisco way back in 2005, the idea has caught on all around the globe. Get this, the relatively new real estate niche is growing at an average rate of around twenty per cent.
What to Look for in a Coworking Space
Personally, I've always wanted a working environment that has the familiarity of home but the slight formality that makes actual offices better for work-life. If you also fit this bill, then coworking spaces could be the perfect solution.
Admittedly, this sentiment is more likely to be shared by a freelancer, but coworking spaces could also be ideal for larger businesses that find their offices overstaffed with temporary workers or ad hoc departments.
More on the ideas above later, but for now, let's take a look at a comprehensive list that we've come up with of Melbourne's best coworking spaces.
1. JustCo
Situated right in the heart of Melbourne are 3 centrally located JustCo coworking spaces easily accessed by Flinders Street Station, Southern Cross Station, and Melbourne's tram network. These centres are surrounded by world-class bars, restaurants, cafés, and lifestyle amenities, making JustCo's coworking spaces the ideal location for your business.
JustCo offers more than just a beautiful space to work. Their friendly community teams onsite can assist you with your daily business operations from reception services to mail-handling and IT support, so you have more time to focus on achieving your business objectives. Businesses looking for the ability to scale up or down can also enjoy ultra-flexi terms starting from just 1 month.
One of the many perks of joining this leading flexible workspace provider is getting to tap on their strong network of more than 100,000 members, where you can collaborate and connect with the like-minded through their exclusive members-only JustCo App.
What's more, this app also allows you to access your private office smart-key, book meeting rooms, manage your bills, redeem exclusive deals from participating merchants, and many more!
JustCo Membership Plans
Hot Desk Day Pass: $50/day
Virtual Office: from $100/month
Hot Desk Unlimited: from $400/month
Private Office: from $670/month
Contact JustCo for a free trial or special rates.
Address: 15 William Street (Level 19), 276 Flinders Street (Level 7), 447 Collins Street (Levels 4 – 5)
Phone Number: 03 7019 0988
Website: justcoglobal.com/au
2. Work by Amber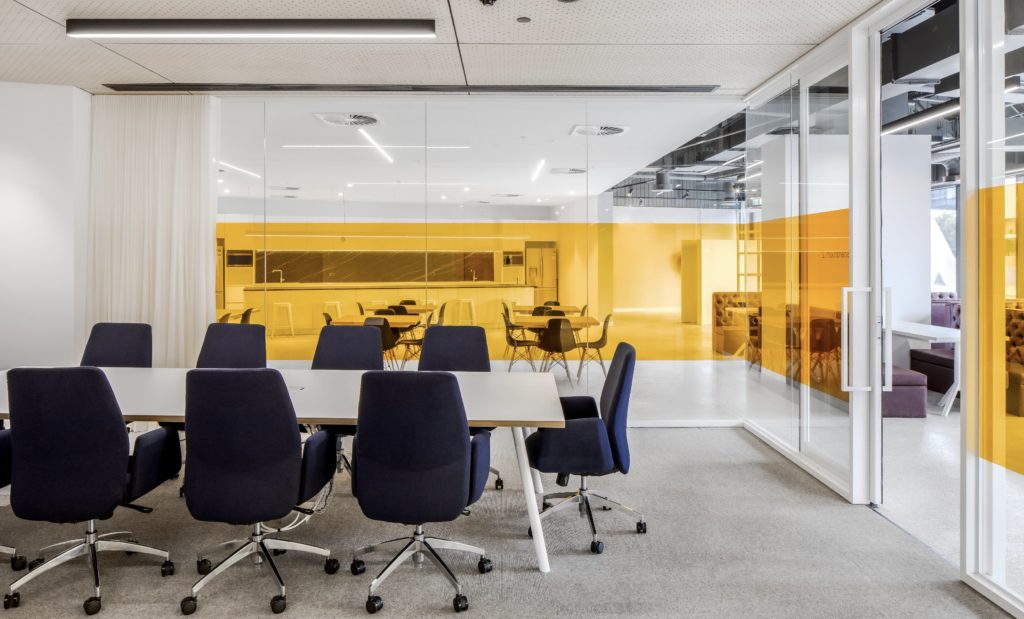 Work by Amber is Coworking reimagined, bringing CBD facilities to the suburbs with modern furnished offices, dedicated desks and coworking spaces available to suit your business needs. Located in Preston, just 9 km north from the Melbourne CBD, conveniently situated near lifestyle amenities including public transport, cafes, restaurants and supermarkets.
Amber is a grea place that provides long term and short-term packages to their modern workspace. They allow for flexibility and 24-hour access to their superb facilities including reliable fast internet, ad-hoc boardrooms and meeting spaces, serviced kitchen and end of trip facilities at your disposal. You can also find a state-of-the-art podcast/recording studio available to book at your convenience.
Their friendly and professional reception team provide a welcoming atmosphere to greet guests and assist with your daily business operations including mail handling, IT support and to guide you around the space.
If you're looking for a motivating workplace to collaborate, design and inspire with good vibes, that's full of likeminded professionals and creatives then Work by Amber is perfect for you, your team and even your fur babies.
Membership Plans
Hot Desk Day Passes: $40/day

Part time coworking: from $160/month

Private Offices: from $610/month

Meeting Room: $35/hour
Address: 39 Plenty Road, Preston 3072
Phone Number: 03 9117 0968
Website: workbyamber.com.au
3. The Idea Collective
If you're in the Footscray area you don't need to go far to find some great coworking office space. The Idea Collective has all your standard office needs covered.
Membership Plans:
Meeting Room Hire: $30/1-2 hours
Hot Desk: $30/day
Dedicated Workspace: $365/month
Address: Level 1, 209 Nicholson Street, Footscray
Phone Number: (04) 14 890 331
Website: theideacollective.com.au
4. CoWork Me
CoWork Me spans over 3,000 square metres and is located in iconic St Kilda. This coworking space and serviced office cater to the needs of all businesses with high-speed internet, secure off-street parking, a wide range of meeting rooms and corporate event spaces. The management team goes out of their way to organise events that help to build a culture and connect people in their community. CoWork Me is ideal for businesses looking to be based a short distance from Melbourne CBD in the gateway to Southeast Melbourne.
Membership Plans
● Virtual Office: $89/month
● Hot Desk: $119/month
● Dedicated Desk: $495/month
● Office: from $500/month
Address: 245 St Kilda Road St Kilda 3182 Victoria, Australia
Phone Number: 1300 29 75 75
Website: coworkme.com.au
5. United Co
United Co. is a shared workspace offering members and guests premium facilities. Workspace solutions are geared toward growth and flexibility and cater to any size of business.
Entering on the ground floor you will find a spacious hotel-style lobby as well as United Co's in-house licensed cafe, Eight Grains. The ground floor offers coworking, day offices, meeting rooms, and event spaces. On additional floors, you will find a range of fully serviced offices furnished with sit-to-stand desks, ergonomic task chairs, and lots of natural light.
Members enjoy many benefits of their workspaces, such as multiple breakouts and informal meeting spaces, members' kitchens with complimentary coffee, tea, biscuits, and fresh fruits, an on-site gym, showers, end-of-trip facilities, and a rooftop garden.
Located on bustling Smith Street, United Co. is within walking distance of an abundance of boutique shops, cafes, and restaurants in Collingwood and Fitzroy. Tram 86 stops right in front.
Contact United Co. for more information and a free tour.
United Co. Memberships & Services
Virtual Business Address $65 /month
Meeting Room Hire from $35 /hour
Coworking Day Pass for $35 /day
Coworking Memberships from $99 /month
Offices from $1200 /month
Address: 425 Smith Street, Fitzroy 3065
Phone: 03 7018 8888
Website: www.unitedco.com.au
6. Melbourne Connect Co-working
Melbourne Connect Co-working calls itself a "dynamic community of innovators." The space sits on 2,200 square metres of space, with flexible private suites, dedicated desks, meeting rooms, project spaces, media studios, and event spaces for all kinds of businesses.
The coworking space is home to many start-ups, scale-ups, freelancers, small business owners, and individuals looking to connect with an innovation network.
Here are some of their services and rates:
Flex Desk – $420 a month
Dedicated Desk – $700 a month
Private Suite – Starts at $850 a month
Address: Level 2/700 Swanston St, Carlton VIC 3053, Australia
Phone: +61 403 139 990
Website: melbconnectcoworking.com.au
7. Creative Cubes
Creative Cubes Co is a facility that offers flexible office and coworking arrangements that are perfect for businesses looking for a vibrant community to network with. If this profile suits you, then you may want the added perks that come with having a working space specifically for business collaboration and growth.
There are various locations, but we specifically like the one in South Melbourne. There are also spaces in Hawthorn, Collingwood, Richmond, and Carlton.
Address: Level 5, 111 Cecil St, South Melbourne VIC 3205
Phone Number: 1300 228 237
Website: creativecubes.co
8. Space & Co.
One of the larger coworking spaces in Australia, Space & Co. has four locations in Melbourne alone! Instead of having set working places, Space & Co. has an open-plan. They promise to mold it to your specific business needs.
Another key advantage of this coworking space is its locations- Space & Co. workspaces are located only in the most convenient locations.
Membership Plans:
Day Pass:$60/day
Casual Membership:$500/month
Full-Time Membership:$600-1000/month
There's currently an anniversary offer ($600/month) at Collins Street Branch. Contact Space & Co. for more details.
Address: Level 22, 8 Exhibition Street, Level 19, 2 Southbank Boulevard, Level 3, 530 Collins Street, Level 12, 360 Elizabeth Street
Website: spaceandco.com.au
9. Collins Square
Located in one of Australia's biggest commercial developments, this workspace could be perfect for you. Office amenities such as Wifi and conference rooms come as standard. Collins Square also offers business concierge services as well as free refreshments!
Membership Plans:
Day Member: $50/day
Part Time Member: $300/month
Hot Desk: $500/month
Dedicated Desk: $700/month
Global Access:$695/month
Address: 727 Collins Street, Docklands
Website: collinssquare.com.au
10. Rotson
Address: Level 2,/105 Victoria Street, Fitzroy
Phone Number: (04) 00 044 398
Website: rotsonstudios.com
Located in the Moran Cato building in the middle of Fitzroy, creatives won't go wrong with Rotson. As of now, it comprises seventeen freelancers ranging from photographers to animators. This office space features amenities such as fast Wifi, a meeting area, a business lounge as well as kitchen and bathroom facilities.
Once payment is made, 24-hour access can be expected.
Membership Plan:$350/month
11. The Commons
This Melbourne Design Awards winning coworking space is simply breathtaking! The people behind this business really appreciate that a perfect working space may mean something different for each person. Expect to see your traditional open desks and offices, but beyond that, at the commons, more relaxed open planned workspaces, as well as outdoor spaces, are also available.
The Commons workspaces are feature packed. Each location typically features high-speed internet (Fibre Optic Broadband), Front Desk Service, Meeting Rooms (both casual and private), private phone booths, conference rooms, car parking, showering facilities, wellness facilities, and library. For more information on particular branches' amenities, visit their website.
The best coworking spaces don't just let anyone in. At the Commons, all tenants have been carefully curated to ensure compatibility. Some of their notable larger businesses include VICE Networks and PayPal
Membership Plans:
Open Desk: $410/ month
Dedicated Desk: $640/month
Private Office: $1600/month
Custom Private Office:Contact for pricing details
Address: Melbourne CBD ( 3 Albert Coates Lane), Collingwood (36-38 Gipps Street), South Melbourne (80 Market Street), Cremorne (10-12 Gwyne Street)
Phone Number: 1300 848 568
Website: thecommons.com.au
12. The Cluster
A great advantage of using coworking spaces, is getting to enjoy all the benefits of state of the art corporate workspaces, for a fraction of the costs. The Cluster is no different. At this coworking space, you will have receptionists to cater to your needs, high-speed internet, IT concierge services, boardrooms, and meeting rooms, break rooms and phone booths as well as library services and shower facilities. Expect 24hour access with any of their membership plans too.
Beyond the standard expected amenities, the Cluster offers one more, somewhat intangible feature. This working space prides itself in completing and growing your business. It's a great platform to form new business partnerships, to expand your network, connect with like-minded professionals, and to possibly find your next employees!
Membership Plans:
Flexi Desk: From $130/ week
Permanent Desk:From $195/week
Private Office:Contact for more info.
Virtual Office: 15$/week
Telephone Answering: 25$/week
Day Pass: From 40$/week
Address: 17/31 Queen Street
Phone Number: (03) 9008 5980
Website: thecluster.com.au
Advantages of Coworking Spaces
We touched on some benefits of coworking at the beginning of this article. Here, we carry on that train of thought and explore some of the advantages of opting for coworking spaces.
This goes without saying, but we'll mention it anyway- Coworking spaces are a cheaper alternative for a small business. Having to worry about utility costs can deter you from focusing all your energies on your business at a time when it needs it most. Coworking environments provide you with state-of-the-art office amenities at a cheaper price.
The power of human capital when looking to grow a business cannot be overstated. Networking is extremely important! Since one interact with many other businesses in a shared office space, coworking provides the perfect opportunity to build lasting business relationships.
We mentioned that coworking is the perfect balance between the familiarity of home and the formality of an office. The freedom and the general enabling environment that coworking spaces tend to have is perfect for productivity!
Conclusion
The idea that one can share office spaces with other business is catching on fast. In Melbourne alone, there over a hundred coworking spaces already! You won't go wrong with any of the Melbourne coworking spaces sample above. Good Luck!
Looking for a larger space, check out our list of the best meeting and conference rooms in Melbourne.